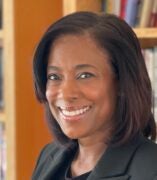 Shawn Levesque
OAE Director, UI Health
Office for Access and Equity
Contact
Address:
809 S Marshfield Ave
Office Phone:
Email:
About
Shawn Eddings-Levesque currently serves as the Director, Access and Equity-UI Health. She has worked for the Cook County State's Attorney's Office as Director of Legal Hiring, specializing in increasing diversity in hiring and promotions. Prior to working for Cook County, she served as General Counsel for the Illinois Department of Children and Family Services. As General Counsel, she managed a law department of over 100 employees statewide and was at the helm of high-profile media cases involving access and equity for the state's most vulnerable children.
She has an extensive history of public service working as a lawyer for the state of Illinois and Cook County for over twenty-three years.  She has served on several committees including the Illinois Governor's employment policy committee, and the African American Advisory Council for Illinois.
She continues to engage with the community working with the Red Cross International Humanitarian Law unit as a volunteer, Diversity Council Member for DePaul College of Law, Women's Bar Association, BWLA, NFBPA, and Howard University Alumni Association.
Education                                                                            
Juris Doctor, DePaul University Law Center
Master of Education, DePaul University
Bachelor of Arts, Howard University