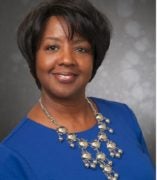 La Donna Hudson
Director for Human Resource Operations
Contact
Building & Room:
Vice Chancellor for Administrative Services
Address:
100 PPB (M/C 270)
Office Phone:
Email:
About
La Donna Hudson began her career as an intern while attending Butler University. During the last 26 years, she has worked for private corporations, county government, and teaching institutions while holding progressively responsible human resources positions.
La Donna came to UIC in 2001, and held the position of Assistant Director of HR for Facilities Management until she was promoted to her current position in 2010. La Donna oversees HR development, planning and operations of the highly unionized and complex division of VCAS and is responsible for providing service to a workforce of over 1,000 staff members. La Donna is a 2010-2011 fellow of the Academic Leadership Program of the Committee on Institutional Cooperation (CIC), and has been a DRS mediator since 2009.