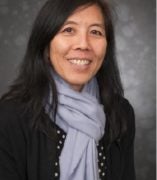 Kathleen Kashima
Senior Associate Dean of Students
Contact
Building & Room:
College of Medicine Administration
Address:
112 CMW (M/C 785)
Office Phone:
Email:
About
Kathleen Kashima, Ph.D. is the Senior Associate Dean of Students and Interim Senior Associate Dean for Undergraduate Medical Education at the College of Medicine.
She has been a medical student affairs dean for over 15 years and has worked in higher education for over 25 years. Dr. Kashima received her undergraduate degree in psychology from Stanford University and her doctorate in clinical psychology from the University of California at Los Angeles (UCLA). She completed postdoctoral fellowships in Health Psychology at UCLA's Neuropsychiatric Institute and Hospital, and at the Center for Cognitive Therapy, Newport Beach, California. Dr. Kashima has been a member of the DRS since 2003.