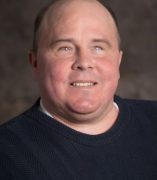 Peter Berg
ADA Coordinator
Contact
Building & Room:
717 Marshfield Avenue Building (MC 602)
Address:
809 S. Marshfield Ave
Office Phone:
Email:
About
Peter earned his bachelor's degree in History from North Central College in Naperville, IL. He is the former Chair of the Mayor's Advisory Commission on Disability for the city of Naperville. He has been coordinating and providing technical assistance as well as conducting training on various aspects of the ADA since 2000. Prior to joining OAE, Peter served as Project Coordinator of Technical Assistance at the Great Lakes Center for Occupational Health & Safety.