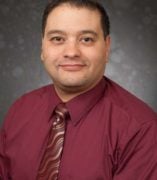 Arnold S. Diaz
Assistant to the Head - Human Resources
Contact
Building & Room:
Department of Pharmacy Practice
Address:
833 S. Wood St, Rm 164 (M/C 886)
Office Phone Voice:
(312) 355-4190
Email:
About
Arnold Diaz currently has 24 years of work experience at the University of Illinois at Chicago as Human Resource professional.
He began his professional work experience as an Employment Officer in the campus Human Resources Employment office. In 2000 he began working in the College of Business Administration as the Director of Human Resources where he gained experience in the academic hiring process for Faculty and Academic Professionals. In 2006 Arnold joined Dispute Resolution Services as a University Mediator. Arnold currently works in the Department of Pharmacy Practice as the Assistant to the Head of Human Resources where he continues to provide his HR professional expertise.
Arnold received his Masters degree in Leadership and Administration from the University of Illinois at Chicago.